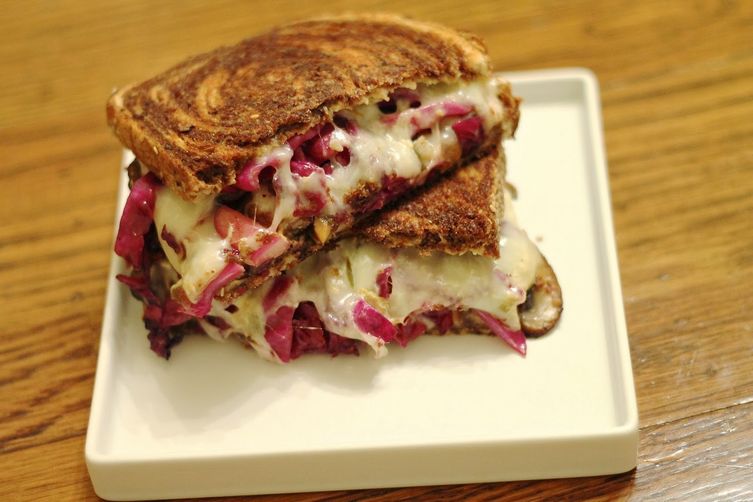 My children call me the "Sandwich Queen". I have a knack for recreating healthy versions of sandwiches from some suprising ingredients. This is one of my all time favorites!
Remember! The tastbuds don't care if it's healthy or not – Only that it is delicious!
My healthy version of the classic Rueben Sandwich created at a little, hometown cafe for myself and the girls: (No one ever misses the meat!)
Start with 2 slices organic whole grain rye bread. (Check out Dave's Killer Bread "Rockin Rye" or Rudi's).
Smash ripe avocado generously on both pieces of bread.
Add a thin slice of Swiss cheese to both sides (provolone is good too)*
Add grass fed organic butter or spray coconut oil to medium hot griddle or large iron skillet. Add bread.*
Pile on top of one slice of bread in skillet:
1 medium well basted egg (be careful not to brown egg) or sliced boiled egg.
Sliced tomatoes (sprinkle with a little garlic sea salt and cracked pepper.
Grilled onions & sauerkraut (purple kraut makes it beautiful!)
Swirl on a little mustard or Russian dressing to taste: I like mustard.*
Grill sandwich until bread is toasted (I like it really crispy).
Press sandwich together and slice.
Serve with a salad or light slaw to balance the acidity of the bread, egg, cheese and tomatoes. This is a heavy sandwich. Keep the dressing light; use some lemon or lime and a splash of olive oil. Season with garlic sea salt and cracked pepper.
*Note: For vegan version use spray coconut oil instead of butter. Add more avocado instead of egg and cheese. Use dairy-free dressing and pile up the veggies!
I can only eat half of this sandwich – very filling. No one is walking away hungry.
Carb Rule: Carbs that do not get used or stored as fuel convert to fat. To avoid this only eat 1 serving of starchy carbs per meal; like bread, rice, pasta, whole grains and potatoes. Serving this sandwich with fries for instance would be "carb-overload". If weight loss is your goal, following this one simple rule will produce amazing results!
Hope you enjoy this rendition of the classic Rueben.
Wishes you much Joy, Peace, LOVE & Health!
The Intuitive Chef
P.S. If you want to know exactly what your "unique" body wants for optimum health, visit me at: https://www.foodrevelation.com/ to learn more about "Food IS Talking" Intuitive Food Compatibility Testing.