MY JOURNEY
I'm not surprised my passion and purpose revolves around food – We've been in love for a very long time. I discovered, at around 11 years old, I was CRAZY about cooking while spending time in the kitchen with my father preparing meals for our large family of seven.
By the way, this picture was taken at my childhood home recently by my talented sister.  My dad still lives there.  We still cook and dance together on a regular basis.  And, I then I spend the night in the same room I shared with my 2 sisters almost 50 years ago.
Back then, I took little miss "Susie Homemaker" VERY seriously.  I remember my Dad would take my creations all over the neighborhood (I pretended embarrassment).
Over the years I have always found immense pleasure in the loving preparation and celebration of food.  I get a huge kick out of re-vamping old family favorites into new, delicious healthy traditions that shut everyone up! In the silence the appreciation and love of the food can be heard.  Of course, I never share the "healthy" part until the plates are empty…
The "food and body" connection clicked in for me early in my adult life, watching my mother struggle with and die young of heart disease at 57.   It hit me then, this was not natural and her doctor confirmed her lifestyle was a major contributor to her chronic conditions.
It would be many years before I realized my love for cooking and my mother's experience had led me directly down the path that would become my life's work.  I believe that all experiences in life happen for a reason.  Looking back I can see the synergy of events (hind sight is 20/20 – right?).
One thing I know for sure – when you work your creativity, it will lead you directly to your purpose. And, that will lead you to joy and abundance (I'm not just talking about the green kind).
As an accomplished plant-based chef, I have been sharing the delicious, healing power of food through public and private cooking classes and seminars for years now.  My favorite title; The Plant-Based Chef for Meat Lovers and Vegetable Haters…
This passion for healthy cooking has also been extended into volunteer work. http://alleyshouse.org/cooking-with-chef-gail/ One of my deepest desires is to witness in this lifetime the end to our healthcare crisis and world hunger.  Just because people have full bellies, doesn't mean they are nourished.  Many have plenty to eat and their bodies are starving. Malnutrition leads to disease.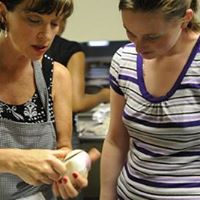 I have been blessed to take part in the re-vamping of the local food pantry where I live.  It is now a remarkable "Nutrition Center" that focuses on "real food" (lots of organics); fresh produce, whole grains and staple cooking ingredients.  I look forward to seeing this concept take off nationwide.  And, of course, learning how to cook is KEY to the success of these programs.  One of the reasons we are in this health care crisis boat is we have given over control of what is in our food.  Cooking from scratch restores control.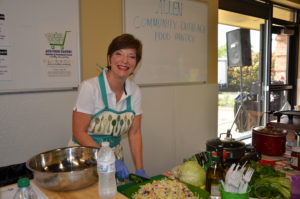 As we all know – one thing leads to another and the chef experience was just one layer of this amazing journey. A life-long love affair with food has led me to the most surprising "Revelation" of all! Our body knows exactly what foods it needs and doesn't for optimum health at any given time.
Food is not just our fuel, it's our "tool kit" for repair and maintenance. If we can know what this amazing, miraculous machine knows, we can be in control of our health. With that revelation, the "Intuitive Chef" was born and since many have enjoyed the health advantages of very specific; "unique to their body only" Intuitive Food Compatibility Testing.
The process is called "Food IS Talking" and it is gaining momentum worldwide as the world moves from the age of "sick care" into the new age of dis-ease prevention and wellness.
I knew when this revelation appeared, "the gift" was meant to be shared.  And so it is!
The Evolution of FREE Health workshops are now available to the public and in private sessions via Skype and video conferencing. Don't we live in a magical time!  We can learn just about anything the world has to offer without leaving our chair.
This is an intuitive process anyone can learn.  It's only a matter of flexing and building the natural intuitive muscle we were born with.  It is my purpose and sheer joy to share this revelation with the world.  Health is Freedom Baby!
Here's to your Peace, Joy, LOVE & Abundant Health!
Gail Blair/The Intuitive Chef
More about Gail:
Gail Blair's intuitive journey began as she began working her passion for food in 2009. In 2012 she birthed "Food Revelation" not having clue how relevant the name would prove to be.   Shortly thereafter she experienced a "spiritual awakening" and her intuitive gifts were ignited.
As a plant-based chef turned Food & Medical Intuitive she has helped hundreds all over the U.S. and Canada remember their natural, God-given health through her "Food IS Talking" Intuitive Food Compatibility process.
Over the years, as her gifts have expanded, she has become a conduit for revelation (the name she gives to the Divine Wisdom she receives).  The 7 most important revelations led her to create the Evolution of FREE Health books and video series. The "Evolution of FREE Health" is the remembrance of our natural, God-given health.
The first book released in 2016, "The Quinoa Cookbook Journey" is a super creative and tasty introduction into the series. The 2nd book in the Evolution of FREE Health series, "The 7 Missing Links to Abundant & Sustainable Health" is the focus of her latest speaking tour and the video series she is releasing to the public as she goes through the publishing process.
Keep up with Gail at:
https://www.facebook.com/foodrevelation/
https://www.facebook.com/evolutionoffreehealth/
https://twitter.com/foodrevelation
Intuitive Chef Gail Blair on YouTube
https://www.youtube.com/watch?v=-4UWl9wf5W0
I am not a doctor or licensed nutritionist.  I am an intuitive.  Services and information provided in the form of tips, recipes, and nutrition advice does not qualify as a substitution for your medical doctor's protocol or advice. I encourage you to trust your instincts and do what feels right to you, but seek guidance from your doctor concerning your health and wellness.