Food IS Talking For Pets Too!

Like the human animal, our pets suffer from an array of food related ailments today.  Animals in the wild do not suffer from cancer, heart disease, diabetes, obesity, skin disorders, etc.  Animals in the wild eat their natural diets if given a choice.   With the invention of low cost manufactured pet food and the owner's stressful lifestyles chronic illness has skyrocketed in pets.
With proper nutrition, exercise and TLC our pets can live a healthy, natural life without pain.   Chronic disease is not natural for lower animals either.
Just like their human friends, what foods are compatible can differ.  What is compatible to one dog or cat may not be compatible with another. Animals are as unique as we are.  Have you ever known a cat that wouldn't eat fish or a dog that loved fruits and vegetables?
Knowing what foods are compatible with your pet and buying accordingly or cooking for your pet can solve lots of problems.
How can we further love and protect our pets?  By keeping them clear and grounded.  Our pets are much more in tune to the energy around them than us humans.  They know instinctively and immediately what energy is chaotic, malevolent or benevolent. And, they respond to it. They may learn verbal and hand commands from us, but it is energy that drives them.  The best animal trainers know this very well.
I recently began volunteering at local animals shelters to clear animals of non-beneficial energies so they can become more adoptable.  All animals are pure love.  If they are acting unloving, they are in protection mode, hunting mode or reacting to energy they have absorbed; most often from their human companions.
Some pets are more sensitive to energy than others.   Very sensitive animals are the human equivalent of empaths or powerful energy sponges.   What stresses you out can actually affect your pet physically.  Most common symptoms are digestive issues and signs of depression with no known cause.  If left unchecked, this stress can eventually manifest into disease.
When a little mindful diligence you can keep your pet clear and grounded.  Our beloved pets are not just loyal friends they are fierce protectors.  It is our responsibility to keep them healthy and safe.
A Food IS Talking session for your pet includes:
A chart of compatible foods and recipe advice.
The skills to keep your pet clear and grounded.
Knowing when a vet trip is in order or when energy just needs clearing.
For More Information contact me at https://www.foodrevelation.com/contact/ 
Or schedule a 15 minute exploratory session at no charge at:  https://www.foodrevelation.com/schedule/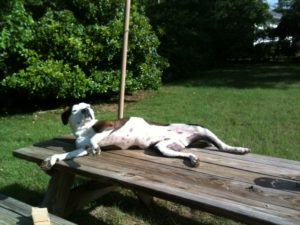 This is my Molly sunbathing on the picnic table in the backyard.  I told you she was special!
Animals do not need near the variety the human body needs for optimum health. However, like us they have a baseline compatibility (their natural diet).  Molly is most compatible with turkey and salmon for meat.  Her body likes a lot of veggies and even some fruits.  She is not at all compatible with any grains.  She has a surprisingly  broad range of compatibility for a dog.
Testimonials
Gail has helped me personally and my French Bulldog, Owen.  Owen is seven years old, and has had chronic yeast/fungal infections in his ears – to the point they are swollen and bleed.  He also has had fungal infections on his skin.  The vets would only prescribe meds that treat the symptoms.  I bought every type of expensive, grain free food on the market, and we had no results.  Enter Gail.  With her intuitive skill, I'm able to know exactly what foods are compatible to Owen's bode. Within 2 weeks he was finally free of the infection!  I can't say enough about Gail and how incredible she is.  Thanks to her Owen can now live without constant irritation and itching.  He's a happy dog again!
Jessica Brown Wilson/Dallas, TX
I have been meeting with Gail for almost 2 years regarding my health. In our most recent telephone session something quite unique and wonderful happened. I revealed to Gail that I had been experiencing some anxiety over a new puppy (China) I had taken in six months prior and had arranged to have her go to a dog trainer who would keep her for 2+ weeks for some serious training. I was ready to have him keep her. I was not comfortable with this but I was at my wits end to come up with a better solution. During the telephone session Gail suggested a technique she called clearing which she would do with both China and myself. China was lying on my lap and Gail began the clearing process for both of us.
Ever since she did the clearing, China and I have formed a closer bond of understanding and acceptance of each other. It is incredible how we are working with each other and my anxiety is gone. I canceled the dog training. Now this is not to say that China does not need some behavior training but we are so much happier with one another. I thank Gail for this. I don't understand it but then I don't have to in order to know it worked for us. Thank you Gail from China and myself.
Donna Kirby/Dallas, TX