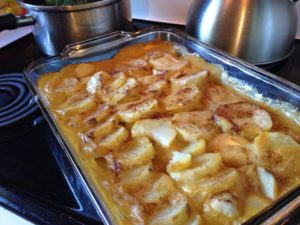 Okay! It was a huge hit! Not a morsel was left and then Daddy actually said, "That was larapin Gail!". His highest praise…I've learned to accept and keep the recipe to myself:) I'm not keeping it from you though – here you go!
Smoked Gouda Au Gratin Potatoes
Gluten Free, Dairy Free & All Plants!
Serves 6 to 8
3 pounds of russet or Yukon gold potatoes, sliced ¼" thick
2 cups unsweetened So Delicious Coconut milk Beverage
⅓ cup nutritional yeast*
2 tablespoon tapioca flour (or corn starch)
1 teaspoon apple cider vinegar
½ teaspoon Dijon mustard
1 ½ teaspoon sea salt
½ teaspoon white pepper (or less – I like it a little spicy)
1 teaspoon onion powder
½ teaspoon garlic powder
½ teaspoon smoked paprika (divided)
6 tablespoon Earth Balance Butter Sticks (or butter for vegetarian version)
1. Spray 9 x 13 inch glass baking pan with cooking spray. Preheat oven to 350 degrees. Arrange sliced potatoes evenly in pan (its okay to overlap).
2. Whisk together nutritional yeast, flour, vinegar, mustard and seasonings. Pour mixture over potatoes.
3. Dot with butter about every 2 inches. Bake for 50 to 60 minutes or until potatoes are fork tender. Serve piping hot.
This is as cheesy as it gets. I swear, no one will ever know!
*2 tablespoons of Nutritional Yeast packs a whopping 8 grams of whole protein and is a good source of B-12 making it a vegan's best friend. Be sure and buy this organic or it may be grown on sugar beet molasses (Simply Organic is one GMO free brand). Sugar beets are one of the largest GMO crops along with corn, soy and canola.
Note: If you want a traditional scalloped potato dish, just leave out the smoked paprika and mustard.
Other Ideas: Melt 3 tablespoon of butter in a large sauce pan and add sauce ingredients. Bring sauce to a simmer until JUST starting to thicken. Pour over prepared gluten- free macaroni (Ancient Grains Corn and Quinoa is my favorite) for an incredible mac & cheese without all the calories. If you really want to fool them, top with gluten-free seasoned bread crumbs and shredded vegan cheese (or sharp cheddar for vegetarian).
Can you say "Broccoli and Cheese" – A healthy way to get the kids to eat their veggies!