Just made this huge iron skillet full of perfectly golden, "Gluten-Free" cornbread for the vegetarian version of my Dad's "best ever" Southern Cornbread Dressing (vegan version below). All you Southern vegans and vegetarians out there – You are all set to enjoy a traditional Thanksgiving with all the fixins! (see the "No-Giblet" Gravy and "Rosemary Apple Cranberry Relish" also below).
The Main Event! My Dad's Famous Cornbread Dressing
You must first start with the best cornbread for the best cornbread dressing! My Dad was not the cornbread guru. It was my Grandma Ethel who made the most amazing cornbread in her old, trusty iron skillet. It was buttery and golden with just the perfect rustic, satisfying texture. She served it with beans, soup and chili. Oftentimes her dinner was crumbled cornbread in a tall glass of buttermilk (I never got up the nerve to try that..lol).
She sometimes got "a hankerin" for dressing on just a regular ole day and would make it with roast chicken. And of course, it was the start of the most delicious cornbread dressing ever made. Grandma is making cornbread on the other side now and I know she would be proud of this version…
Classic Iron Skillet Cornbread* (8 Servings)
(Gluten-Free, Vegetarian with Vegan Option)
1 cup stone ground organic cornmeal**
½ cup organic polenta (coarse ground grits)**
1/2 cup Bob's Red Mill Gluten Free 1:1 (or 1/4 cup tapioca flour and 1/4 cup oat flour)
½ teaspoon baking soda
1 teaspoon baking powder
1/2 teaspoon sea salt
2 tablespoon pure maple syrup
1 organic egg** (or 2 tablespoon flaxseed mixed with 4 tablespoon water. Let stand for a few minutes until thickened)
½ cup organic applesauce (unsweetened) or 1/4 cup melted butter
1 cup more or less of milk (or unsweetened plant-based milk for vegan version)
1 teaspoon Bragg's apple cider vinegar (omit if using buttermilk or kefir)
1 tablespoon organic grass-fed butter (use Earth Balance for vegan version)
Pre-heat oven to 350°F. Place iron skillet* in hot oven while mixing together ingredients.
In large mixing bowl mix together all dry ingredients. Whisk together all wet ingredients in large measuring cup. Add wet ingredients to dry, mixing until just blended. Do not over mix or you will have flat bread. Batter should be very thick but pourable.
Melt butter in hot iron skillet*. Tilt skillet to coat evenly the bottom and sides. Pour batter into hot skillet making sure it's spread evenly. Place on center rack in oven and bake for about 30 minutes or until golden on top and a toothpick comes out clean. Allow to cool for about 10 minutes before removing from skillet. (DO NOT SLICE BREAD IN SKILLET).
*Note: You can use a muffin tin, glass or metal pan for this recipe. However; a good ole iron skillet is an excellent source of iron for a plant-based diet and when it is well seasoned, iron is virtually "non-stick" and a joy to cook with. See tips below for cleaning and seasoning an iron skillet.
Tips: Add a chopped jalapeno, whole kernel corn and herbs for a different spin. My favorite is fresh chopped sage and garlic. Use your imagination with this versatile southern favorite.
**Corn, soy, canoli and sugar beets are the most genetically modified food crops on the planet. Buy organic to avoid GMOs. Unless you have access to local, farm fresh eggs from well cared for chickens, look for eggs that say on the carton "organic" and "pastured" – "NOT" pasteurized" . The chicken and egg industry is a very cruel one. Let's vote with our wallet.
Southern Cornbread Dressing
15-20 Servings (Gluten-Free & Vegetarian with Vegan Option)
1 large skillet of prepared cornbread, crumbled and dried overnight or longer
1 cup gluten-free bread crumbs (rice is good)
1 large onion, chopped fine
3 garlic cloves, minced
2 large stalks of celery, chopped fine
1 medium bell pepper, chopped fine (I use red, but my Dad prefers green)
1 large apple, peeled and chopped fine (crisp, firm red apple)
1 small can of water chestnuts, chopped
2 tablespoons rubbed sage (1/4 cup fresh chopped) or to taste
1 teaspoon dried thyme (or 2 teaspoons fresh chopped)
½ teaspoon dried rosemary (or 1 teaspoon fresh chopped)
1 teaspoon sea salt (or to taste)
1 teaspoon cracked pepper (or to taste)
4 cups Imagine Brand "No-Chicken" Broth
1 cup more or less of milk (or unsweetened plant-based milk for vegan version)
3 boiled eggs, chopped fine (or 1/2 cup extra firm organic tofu** chopped to look like boiled eggs for vegan version)
2 tablespoon butter (or Earth Balance Butter for vegan version)
Pre-heat oven to 350°F. Pre-heat deep 12″ iron skillet or 9 x 13 glass pan.
Place all dry ingredients and spices into a very large mixing bowl and with clean hands mix well.
Add broth and milk. Mix until well blended. Taste and adjust seasonings. Add a little more milk if needed. Dressing should be very moist, but not runny. Gently fold in eggs or tofu.
Add butter to hot pan and tilt to coat bottom and sides. Pour dressing into prepared pan and bake for about 1 hour or until turning crisp around the edges and starting to brown on top. Do the shake test. It's done when it doesn't jiggle.
Growing up, when everyone was focused on the bird, I had my sights on the cornbread dressing and cranberry sauce. In my family, the cornbread dressing IS the main attraction. Thanksgiving dinner is not complete without it!
After Grandma passed my Dad took over. It doesn't matter whose house we end up at for this celebration, as long as he brings the dressing. A couple of years ago, the family got together for Thanksgiving at Daddy's (the house my siblings and I grew up in) for the first time since we were kids. I made my version and he made his. His comment, "Well Gail, this is just larapin!". The highest compliment coming from my Dad! I hope you enjoy my version of this southern classic!
Rosemary Apple Cranberry Relish
(8-10 Servings – Diabetic Friendly)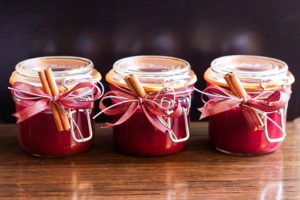 I remember when I first discovered the recipes on a bag of fresh cranberries and I was like WHAT!?! Why are we serving jellied, canned cranberry sauce at our holiday table when homemade is this simple? If you have 10 minutes, a bag of cranberries, some sugar and water you have cranberry sauce. Don't like it chunky then puree it. If you like the jelly stuff, put it in a mold.
From that "Ding Ding" moment on, everyone relies on me to bring the cranberry sauce. They think I went to a lot of trouble – NOT!
Over time, I've made many versions. This delicious version is sugar-free. Trust me when I say this combo is extraordinary! After the celebration serve the left-overs on toast, nut butter sandwiches and my favorite – spread it on a hunk of dark chocolate….Yummmm!
2 granny smith apples (peeled, cored and diced very small)
1-12 ounce bag of cranberries (washed)
½ cup fresh squeezed orange juice
½ cup water
½" sprig of fresh rosemary
1 teaspoon fresh grated ginger (optional)
1/2 teaspoon NOW Better Than Stevia organic liquid or more to taste*
1 teaspoon cinnamon
Dash of sea salt
Add all ingredients into large saucepan. Bring to boil and reduce heat to simmer. Cook for about 10 minutes or until apples and cranberries are soft. Remove rosemary sprig. Place in covered dish and chill. Garnish with a sprig of fresh rosemary.
*Note: I've come to realize much of the stevia on our store's shelves is chemically processed and genetically modified. This is one brand I trust.
"NO Giblet" Holiday Gravy
Gluten-Free, Vegetarian with Vegan Option
1/4 cup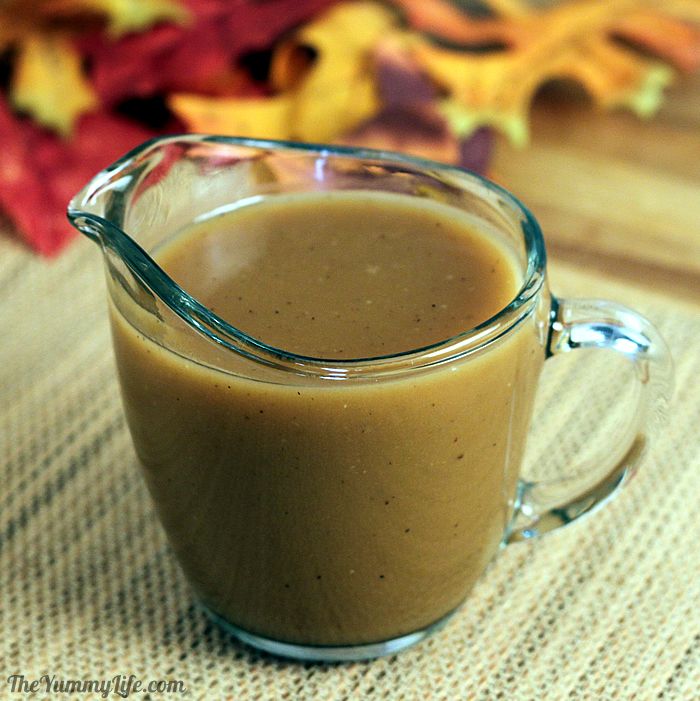 butter (or Earth Balance for vegan version)
1/4 cup white flour (or Bob's Red Mill Gluten-Free
1/2 teaspoon poultry seasoning
1/4 teaspoon fresh chopped rosemary
2 cups more or less of Imagine NO Chicken broth
1 tablespoon nutritional yeast
2 teaspoon white miso (dissolved into a little warm broth)
1 boiled egg grated (or about 2 tablespoons grated organic firm tofu for vegan version)
Sea salt and cracked pepper to taste (very important ingredients)
In medium sauce pan or skillet melt butter over medium high heat. Whisk in flour and poultry seasoning stirring constantly until blended and smooth. Slowly whisk in broth a little at a time as you stir constantly. Note: do not pour in broth all at once. You can always add more if the gravy gets too thick. If it's too thin, a little more difficult to fix).
Bring to simmer and cook until gravy is just thickened. Remove from heat and whisk in dissolved miso.
Cover and keep warm until serving. Re-heat gently if needed and add a little more broth if too thick.
This gravy is an amazing knockoff of the original! Put it to the blind taste test. And, it's simple enough to serve all year over biscuits, on mashed potatoes or try it in a vegetable pot pie.
For pot pie, do not let it thicken. It will thicken as it bakes.
Tender loving Care For Your Iron Skillet:
I use my old iron skillets for everything from sautéing to baking. A well-seasoned iron skillet never sticks. Just a few tips from my Dad on how to keep your skillet rust free and non-stick – FOREVER!
To season a skillet, make sure it is completely rust free* and dry. Coat skillet with a thin layer of vegetable oil. Turn upside down in oven and bake at 350 degrees for 1 hour. You may need to repeat this process a few times, (depending on the condition of the skillet), until a paper towel rubbed on surface comes away clean. If you follow the next 3 tips, you will never have to do this again!
Avoid using soap in your iron skillet unless absolutely necessary. Scour (with plastic – not metal) and rinse with hot water. If you do end up burning food in your skillet do not scrape it! Fill pan with water and heat to simmer for a few minutes. The food will come right off.
To dry skillet thoroughly, place it over low heat or in a warm oven for a few minutes. Store in oven when dry to prevent any moisture from coming in contact with pan. Never put oil on a damp skillet – It will lock in the moisture and cause it to rust – overnight! Oil is only necessary for long-term storage to protect it from rusting when humid.
Never cut your skillet with a knife. It will damage the seasoning and cause it to stick in that spot. You will have to re-season it.
* Use lemon juice and coarse ground salt to scour a rusty skillet. Repeat if needed until no more rust remains.
May Gratitude, Peace and Love bless you this season and always!
Intuitive Chef Gail Blair