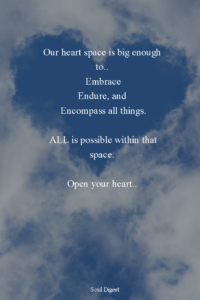 What is "Right" Action?
The synergistic events of my day are defining it. I found a "God Note" today I jotted down some weeks ago as I was de-cluttering the kitchen counter-top. A "God Note" is a spontaneous, inspired thought; the kind that show up randomly when you least expect it. Sometimes they arrive in dreams and sometimes during waking hours, when my mind is free enough to hear them (I was washing dishes this time). This thought followed on the heels of a passionate conversation with a friend (you know what they say about politics and religion…). We were debating what "right action" is, in these seemingly very chaotic, stressful times. It may even seem we are backsliding today. We are not. What is still bubbling under the surface is only coming into the light to be seen. The darkness cannot survive the light. I digress…
The note was this:
Right action, any action can be energetic, physical or both. For instance, thoughts and prayers are energetic action. The thought cannot be seen, but the results are made manifest. Some people "act" more energetically (prayer warriors, lightworkers, etc.) and some have more physical roles. Both are profoundly important for creation.
Physical action is always born of thought, even if it is bubbling under the surface of our unconscious (in the dark).
Every creation (manifestation) begins with a thought, just as we are a thought of our Creator.
"Right Action" is born of loving thought. Loving thoughts and actions are heart-based and honor the oneness that we are, regardless of circumstance.
Then I opened this today from Renaissance Unity:
Today's Meditation
Dear God,
I deeply desire that love guide my life.
Love for myself, the people around me and this planet.
Love that is beyond words or thoughts, beyond intellectualizing.
You are the source of me, the fountain of my life.
May this core of love expand until only love remains.
Express yourself fully, in and through me.
And, so it is – Amen
Rev. Kelly
And, then I opened another email from Rev. Karen at Unity on Greenville. This verse was at the bottom:
"Let me give you a new command: Love one another. In the same way I loved you, you love one another. This is how everyone will recognize that you are my disciples – when they see the love you have for each other." John 13: 34-35
If this is not a clear message, I don't know what is…
No matter what action we take – Let Love lead.