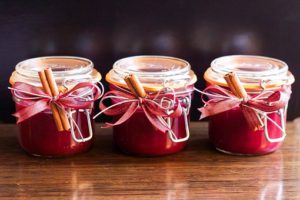 I remember when I first discovered the recipes on a bag of fresh cranberries and I was like WHAT!?!  Why are we serving jellied, canned cranberry sauce at our holiday table when homemade is this simple?  If you have 10 minutes, a bag of cranberries, some sugar and water you  have cranberry sauce.  Don't like it chunky then puree it.  If you like the jelly stuff, put it in a mold.
From that "Ding Ding" moment on, everyone relies on me to bring the cranberry sauce. They think I went to a lot of trouble – NOT!
Over time, I've made many versions.  This delicious version is sugar-free.  Trust me when I say this combo is extraordinary!  After the celebration serve the left-overs on toast, nut butter sandwiches and my favorite – spread it on a hunk of dark chocolate….Yummmm!   Happy Holidays!
Serves 8-10 Servings
2 granny smith apples (peeled, cored and diced very small)
1-12 ounce bag of cranberries (washed)
½ cup fresh squeezed orange juice
½ cup water
½" sprig of fresh rosemary
1 teaspoon fresh grated ginger (optional)
½ cup stevia (or to taste)
1 teaspoon cinnamon
Dash of sea salt
Add all ingredients into large saucepan.  Bring to boil and reduce heat to simmer.  Cook for about 10 minutes or until apples and cranberries are soft.  Remove rosemary sprig.  Place in cover dish and chill.  Serve with a fresh sprig of rosemary garnish.
Beautiful gift!