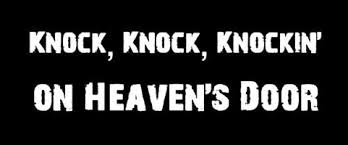 Truth verses Right and Wrong…..
Our bodies tell us everything. If we are feeling uptight, stressed or loud in our response – That's our sign we are not in the vibration of
Love and Truth, but only concerned with "right or wrong".
I feel a responsibility to sometimes share things that are hard to look at. All events are "Knocking on Heaven's Door" – The harder the knock, the bigger the nugget (or gift).
Change does not happen by sticking our heads in the sand, but by opening the door.