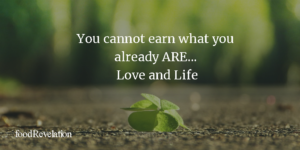 You may have heard that "giving and receiving" is all the same. More accurately; they work together – NATURALLY. What is receiving? The word "receive" contains the energy of surrender; to allow –surrender to. Interesting…the word "give" is also infused with the energy of surrender; to give up.
Let me tell you a story….
The story starts with a book, "The Surrender Experiment" by Michael A. Singer. I had already read his book "The Untethered Soul" and it was super affirming of my current understanding of who I AM. It is one of those books I recommend often. Then The Surrender Experiment showed up on my radar. Honestly, as I write this I don't know how it came to me. I just know it resonated at such a deep level I could not put it down or better said – turn it off. I listened to Michael himself tell the story on Audible.
Let me say right here, I am a book-a-holic. The thought of listening to a book never really appealed to me. I enjoy reading a book I can hold in my hand. Then came Audible. I love listening when I'm driving. It makes the drive so much more fun! And, I'm able to enjoy even more books.
Anyway, I had no idea the depth of this man's journey. I had no clue what had been built or how far his reach was due to his decision to just surrender to life; going where life led. Never saying NO to whatever life dropped at his doorstep. Just allowing life to unfold without resistance.
We think we know what is best for us. We do not. Or, our "Ego" mind does not. The Universe (God) wants to give us every "Good" thing. We are good at blocking this good with our mind and then actions.
This book was the first in a series of synergistic events that would unfold over the course of two weeks and leave me changed. I love it when something or someone has that effect on my life. I love having my mind blown. I couldn't always say that…
The second event came in a dream. All I remember is a pelican with its gullet full…bulging. I know that we have animal messengers. I have lots of experiences around this magical way of receiving divine messages. Another story time…
I didn't tune-in to that message right away. It would be several days before I remembered again and discerned the message (God's timing is impeccable). "Animal-Speak" pocket guide by Ted Andrews is a super helpful tool I use to steer me in the right direction. However, just like Archangel Michael Card Readings (the only card readings I do), I realized a long time ago that the entire message on the page may not be relevant. My inner guidance discerns the specific meaning for me or for my client. The sentence on the page that was most relevant – "Give what you can to others". Hummm…. "I wonder what that means?" "More volunteer work – maybe?"
A few days later, I'm in a session with a client in Florida and she says I remind her of a healing facilitator named Charlie Goldsmith. In the wee hours of May 6th I thought to look him up. (I realized just now as I write, 5/6 = 11. That sweet number that lets us know we are on the right track). Part of the message of the pelican became immediately clear when I read Charlie does not charge for his services, (I didn't realize then the pelican's "full gullet" also had meaning). Shocked, I asked "Spirit, are you telling me to give my services away?" I heard, "Give yourself away".
As you can imagine, the idea was a little scary – A LOT scary. Just to be on the safe side, I asked, "Spirit…show me one more thing I cannot argue with and I am ALL IN!"
I awake the next day and as I'm getting ready for church I remember I volunteered to read "The Daily Word". I said to myself, "I had better get my rear in gear if I'm going to be on time". I needed to be there an hour before the service to practice. Not that it takes an hour; there are several volunteer speakers that practice during this time.
During my drive time to church (about 35 minutes) I am quiet; no music, no distractions. It is a time I cherish as I often receive divine messages along the way. I am in receiving mode. Several times I tear up and I don't know why. It is a joyful energy that is bringing the water. By the time I pull up to the light at Mockingbird and Central I KNOW I'm going to receive the divine answer I asked for at church and it is going to move me to tears – it already had.
I received the answer as soon as I opened to the Daily Word for May 6th, 2018. Here it is in its entirety:
Sunday, May 6, 2018
Helping Others
I AM GRATEFUL TODAY FOR EVERY OPPORTUNITY TO BE OF SERVICE TO OTHERS.
Again and again in his earthly ministry, Jesus called us to have faith—the faith of a child, faith as small as a mustard seed. We may assume that it's only with enough faith we can do the work that is ours to do. Today I recognize that quite the opposite is true!
By reaching out, extending love, and helping others in their human experiences, my faith grows. Belief becomes easy when I can clearly see the spiritual power my actions create!
My choice, then, is not a blind faith but a perceptive faith. I recognize the good I can create in the world and I strengthen my faith through the actions I choose.
Give and it will be given to you. A good measure, pressed down, shaken together, running over, will be put into your lap; for the measure you give will be the measure you get back.—Luke 6:38
© 2015-2018 by Unity. All rights reserved.
As soon as I read the affirmation, I found myself vibrating from head to toe. But, this is not the end of the story…
I was pretty overcome. Yes, the tears flowed. When it was time to read the message to the congregation I had put myself back together – somewhat. I wasn't able to hold it together completely. I was moved again as I read the bible scripture. Several people noticed, included Rev. Karen. I asked her if we could talk about what had just happened after the service.
We sat together in the church courtyard where the most amazing, majestic oak tree graces the church with her wisdom and protection.
When I told her what I was being guided to do. She nodded lovingly and reassuringly. I'm thinking, "Whew! She doesn't think I've lost my mind!" She too has been guided to give of herself in similar fashion. She then asked a very profound question; something I hadn't thought of yet, "Gail, if someone offers you money – what then?"
My left ear popped with that question. Those who know me, know this means I am receiving a divine message. I say to Karen, "Spirit has something to say." I quiet my mind and this gentle voice tinged with a little humor says, "Gail, surrender to receiving". I understand the humor. You see, I've gotten A LOT better at giving (sometimes until it hurts), but receiving has always been hard for me. Can you relate? I have resisted my Good and a helping hand as long as I can remember.
Reading the Daily Word message again, I realized I was being called into a "surrender experiment". And it wasn't just about giving, but also receiving. This was the meaning of the Pelican's full gullet. My faith is about to grow to an unshakable level.
At the moment of surrender – when I said YES, an unexpected sense of peace and euphoria (an odd combo) enveloped me; confirmation I had answered correctly. This feeling comes rushing back whenever I think about this moment.
The next day I lie down for a nap, with a few questions rolling around in my mind as drifted off; "How does this work? What does it look like? How do I proceed?" The answer woke me up. My eyes flew open when I heard, "It works naturally. Receiving is built into giving. It was designed that way".
Mother Nature mirrors for us our natural way of giving and receiving. The womb of creation nurtures all of life and all life forms in nature nurture Mother Earth. There is nothing to earn. The circle of life just is.
The heavens mirror for us unconditional love. We can see that the sun, the moon and the stars shine on everyone equally without condition and ask nothing in return.
On Tuesday, I knew exactly how to bring my website and online scheduler in alignment with this "surrender experiment". Here is how it works:
All energy work (the gift) will be given without condition. This includes:
"Food IS Talking" Intuitive Food Compatibility Sessions
Chakra Work
Energetic Skeletal Alignments
I will accept "love donations" only. No suggested amounts will be given (all pricing has been removed from the website).
If it is determined I can help, I extend this help regardless of the ability to pay.
I know by "letting go of the wheel", not only will my needs be abundantly met; doors will also be opened to others to receive the help they need. This reminds me of something I read in the "12 conditions of a Miracle" by Todd Michael. It went something like this, "When what you desire is in alignment with what is Good for everyone – you will not be denied".
This Memorial Day weekend it will be 3 weeks since receiving "The Message". I am already blown away by the experience so far. I realized last Sunday as I was writing my tithe check for the week prior, it was the largest one for the year! This week I am able to give even more. I feel so blessed and grateful!
Here is the rest of what I heard…
1. The perceived self-worth of many is directly tied to the world's monetary system. For instance; it is generally accepted that without a formal education you will not be able to "earn" a living wage. The more expensive the education the higher the income. Without an education you are considered practically worthless.
I let this idea hold me back from sharing my gifts initially for fear I would not be taken seriously without an expensive education and I might starve. The intuitive and energy healing work I do was "not learned" it was realized and keeps expanding. I do not have a bunch of letters after my name lending me credibility. We are starting to realize we can "learn" anything online and "not all knowledge is learned". This work I've been given has sustained me full-time and part-time going on 8 years now.
I've been told over and over, "Gail, you need to charge more for your services. Your pricing is a reflection of your self-worth. People will perceive your effectiveness based on how much you charge". If I use this tactic, the very people I came here to help may not be able to access the help.
2. What we believe about love is directly tied to a worldly system of value. Many women have come to believe that to "marry well" you must be a "good catch"; with good looks, a good education and money doesn't' hurt. In some countries marriages are still outwardly arranged based on money; the dowry system. Much can be overlooked when looking for a mate if the money is right. How many marry for "anything but love". How many in past generations, including my own married to be "taken care of financially?"
We may be conditioned to monetize self-worth and love, however the "The Truth" is:
"We cannot earn what we already ARE – Love and Life".
I guess it is time to trust Life again and its "built-in" support system of "giving and
receiving". It is time to undo my conditioning around money and self-worth, once and for
all. It is time to release ALL blocks to receiving abundance in its many forms – including
money. To give of myself expansively and freely – I must do this. To receive abundant love –
I must do this.
I can see how this surrender thing works in all of life and this realization helps to solidify my
faith. For instance; without surrendering what "I think" to the Source of ALL Knowing, I would
not be able to do the work I'm called to do. For every question there is already an answer.
They co-exist, just like giving and receiving. I "receive" these answers on behalf of my
clients. If I can allow this, then I can allow anything.
I don't know where this experiment is leading me and that's okay. My ego reminds me less
and less every day that the unknown and change is scary. I wonder if it will ever completely
give up. It really doesn't matter. I have a free will choice in who am I going to surrender to;
myself or God. I choose God.
In much gratitude and love,
Chef Gail
PS: Who wants to play with me? That could be your own surrender experiment or scheduling a session you thought you could not afford.
PSST: Below is a cool recipe to help you surrender to Summer – Enjoy!
---
Smokey Watermelon Gazpacho Serves 8-10
8 cups of seedless watermelon chopped in small cubes)
2 tomatoes diced
3 tablespoon extra virgin olive oil
1 yellow, orange, or red bell pepper diced
3 tablespoon white balsamic vinegar
1 cucumber peeled and diced
2 jalapenos seeds removed and diced
¼ cup purple onion diced
Juice from 1 large lime
2 garlic cloves minced
1 cup diced and peeled mango or peach (fresh or frozen)
1 ½ teaspoon smoked paprika
1 teaspoon ground chipotle pepper (or to taste)
1 ½ tsp sea salt
2 tablespoon fresh chopped basil
½ cup chopped cilantro
Process 3 quarters of vegetables and fruits with vinegar and lime juice in food processor or blender (process in batches is needed).
Pour into large bowl and blend in balance of fruit and veggies and chopped herbs. Cover tightly and chill well before serving. (This is way better the next day).
A most delicious way to get your daily quota of raw fruits and vegetables.
Curious if a Food IS Talking Intuitive Food Compatibility
Session with The Intuitive Chef can help you? Schedule a "No Charge" 15 minute exploratory session here: https://www.foodrevelation.com/schedule/
---
About Gail:
Gail Blair's intuitive journey began as she began working her passion for food in 2009. In 2012 she birthed "Food Revelation" not having clue how relevant the name would prove to be. Shortly thereafter she experienced a "spiritual awakening" and her intuitive gifts were ignited.
As a plant-based chef turned Food & Medical Intuitive she has helped hundreds all over the U.S. and Canada remember their natural, God-given health through her "Food ISTalking" Intuitive Food Compatibility process.
Over the years, as her gifts have expanded, she has become a conduit for revelation (the name she gives to the Divine Wisdom she receives). The 7 most important revelations led her to create the Evolution of FREE Health books and video series. The "Evolution of FREE Health" is the remembrance of our natural, God-given health.
The first book released in 2016, "The Quinoa Cookbook Journey" is a super creative and tasty introduction into the series. The 2nd book in the Evolution of FREE Health series, "The 7 Missing Links to Abundant & Sustainable Health" is the focus of her latest speaking tour and the video series she is releasing to the public as she goes through the publishing process.
Keep up with Gail at:
https://www.foodrevelation.com/about/
https://www.facebook.com/foodrevelation/
https://www.facebook.com/evolutionoffreehealth/
https://twitter.com/foodrevelation
Intuitive Chef Gail Blair on YouTube
https://www.youtube.com/watch?v=-4UWl9wf5W0
Disclaimer: I am not a doctor or licensed nutritionist. I am an intuitive. Services and information provided in the form of tips, recipes, and nutrition advice does not qualify as a substitution for your medical doctor's protocol or advice. I encourage you to trust your instincts and do what feels right to you, but seek guidance from your doctor concerning your health and wellness.