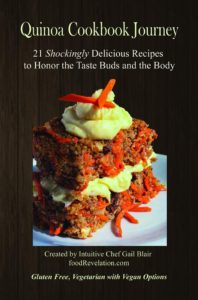 It's finally done! Man, what a journey it has been. My goal was to have this birthed by Thanksgiving but the Universe had a Christmas delivery in mind. This is not the first time I have had a Christmas birthing. My daughter was born on Christmas day!
I am now accepting pre-orders for the "Special Edition" hardcover, full color book at foodrevelation.com. Just look for the book cover for ordering information.
In the event this baby decides to arrive late, I will be sending out laminated post cards with this amazing carrot cake recipe on the back to announce the expected arrival. Don't forget to include the shipping address and if it is a gift, I am providing gift cards as well. (For bulk orders contact me at foodrevelation.com/contact-us/
The e-book will be available in the next few weeks everywhere; Amazon, B&N. etc.
The Quinoa Cookbook Journey is more than a cookbook; it also tells the abbreviated story of the amazing journey that lead me to wellness and realizing my intuitive and clairvoyant gifts. This is the first book in the "Evolution of FREE Health" series. Stay tuned for the next cookbook; "Food IS Talking", The 10 Most Compatible Foods Cookbook, followed by "Evolution of FREE Health", The 6 Missing Links to Abundant Health.
This is what a few clients are saying about the "Food IS Talking" experience (Intuitive Food Compatibility Testing and THE FOOD):
"At first glance this book may look like your typical cookbook (if you consider quinoa typical). I assure you it is not. What makes this cookbook unique? It was written by a very creative, Plant-Based Chef turned "Food and Medical Intuitive". How creative? Intuitive Chef Gail Blair has been lovingly labeled, the plant-based chef for "Meat-Lovers" and "Vegetable Haters". Her recipes surprise and amaze even the most skeptical, die-hard meat and potato lover; including me. The bonus of her "intuitive gift" is a gift that keeps on giving. If you think "healthy" means suffering through tasteless, cardboard box meals, you are in for a big treat! There is a divine reason Gail was a master chef before her "gifts" kicked in. No-one wants to suffer on the road to health. As a client, I can attest with Gail you don't have to."
– John Sklar M.D./Pain Specialist and creator of Pathways to Releasing Pain
"For years I've tried every diet in the book, lose some weight without enjoying food and then gain it right back. Gail's Food Compatibility Consultation was an eye opener. For the first time I now understand what specific foods my body needs to be healthy. I was able to bring my body into balance within 10 days. The bonus was losing 10 pounds exactly where I wanted to lose them while eating as much as I wanted with the foods compatible for my body. Gail is a genius at creating recipes that are delicious, easy to make and family friendly. I can't say enough about how freeing it is to finally understand what I need for my body. The fun part is that Gail's intuitive approach along with a great big helping of common sense is served with a side of humor."
– Marie Guthrie/CEO – Executive Leadership Strategist/Quantum Leader Foundation Program
"I thank God often for bringing Chef Gail Blair into my life. I started seeing her for intuitive food compatibility testing about 10 months ago. I had been very sick for months. I saw several doctors and even a holistic doctor 2000 miles away. I was afraid to look in the mirror at my frail reflection and eating wasn't often a
comfortable experience.
Her intuitive food charts took the guess work out of eating. I focused on the foods my body needed and was quickly needing a new chart with exciting new foods on it that I'd hadn't dreamed were part of my natural diet. I committed to the healing process,
no matter what ideas I'd held about the surprises on the chart. Dairy and coffee took a leap of faith, but I love them both now. I am back up to a healthy weight and I LOVE food!
I have had the unique opportunity to have sampled a lot of Chef Gail's cooking. Her food is amazing! She loves what she does and you can taste it in her meals. I love everything I've had so far and I can't wait to see what comes next!"
– Kristen Vega/Richardson, TX
Enjoy a sneak preview of the Quinoa Cookbook Journey!
Hi there! This is Intuitive Chef Gail Blair, coming to you from a little town in the heart of North Texas. I never dreamed I would be writing a quinoa cookbook! Heck, 10 years ago I didn't even know what quinoa was! If anyone had told me 5 years ago where my passion for cooking and love for food would lead me, I would have said that someone is CRAAAZZZY!

This passion led me on a journey of self-discovery and along the way I found my true calling: helping others discover for themselves their natural health and "intuitive" gifts. Yes, health is natural – chronic disease is not.

Why is Quinoa the star of this cookbook? It is a complete protein (like meat and dairy); making it a vegan's best friend and perfect for anyone looking to reduce their meat intake. AND, it is easily digested, low glycemic, nutrient dense, and alkaline to neutral in pH. It cooks in as little as 15 minutes and freezes perfectly. It also happens to be super versatile! Having very little flavor on its own, it's like a painter's blank canvas just waiting to be painted. So that's what I've done! Created Quinoa Art!

As you cook your way through this little book, enjoying every blissful bite, you will be learning how to create balance in the body. As in all of life and nature, balance is crucial to flourishing health.

You will find enclosed a surprisingly delicious collection of traditional casseroles, side dishes and desserts; along with some very creative, natural ways to enjoy full-flavor food without punishing the taste buds. Many recipes are re-vamped holiday traditions. Each one has been test-driven by the most discerning foodies across the U.S.

My Motto – "The taste buds don't care if the food is plant,
animal or healthy as long as it's delicious!"

Most of the recipes in this little book are simple and designed for families to cook and enjoy together. Some a little more challenging, but easy to follow. Who doesn't like a fun, delicious challenge? Many are "all-in-one" meals. I knew you wanted to hear that!

All of them are gluten-free, vegetarian and/or vegan friendly. And, most of them freeze very well; so even the single person or small family can enjoy the luxury of having something healthful and delicious every day!

This book is also the natural result of over 400 "Intuitive Food Compatibility Sessions" over almost 5 years now. It is an accumulation of what has been revealed intuitively (revelation) and learned along the way through experience. Three common
threads run through most sessions:

1. Many bodies are "malnourished" (obesity is a primary symptom of this – YES);
2. Many bodies are "unbalanced" (too acidic – at the root of all chronic disease) and
3. Many bodies are "over-proteinated" (a new word that means the body is getting WAY too much protein from mostly acidic sources).
Order your copy today for the rest of the story….
Wishing you all much Peace, Joy, LOVE & Health this holiday season and always!
Intuitive Chef Gail Blair
Carrot Cake with Butter Cream Frosting
Vegetarian/Vegan Option 8-10 Servings
2 ½ cups cooked and cooled quinoa
4 tablespoons ground flaxseed + ½ cup water
⅓ cup full-fat canned coconut milk (or unsweetened, plant-based milk)
⅓ cup pure maple syrup or raw honey
8 drops Now Better Stevia organic liquid (or to taste)
1 teaspoon vanilla extract
2 teaspoons cinnamon
¼ teaspoon sea salt
1 cup shredded carrots
¼ cup raisins, dried currants or chopped dates (dates are low glycemic)
½ cup chopped walnuts or pecans (optional)
Coconut oil or grass-fed butter
Preheat oven to 350ºF. Coat 8 x 8 inch baking dish with a fine layer coconut oil or butter.
In a large mixing bowl, whisk together flaxseed and water. Allow mixture to stand at room temperature until thickened to an "egg-like" consistency, about 5 minutes.
Whisk into flaxseed mixture; milk, syrup or stevia, vanilla and spices. Stir in carrots, quinoa, raisins and nuts. Pour into prepared pan and spread evenly.
Bake for 35-40 minutes until set. A toothpick inserted should come out clean. Remove from oven and let cool completely before frosting.
Butter Cream Frosting
¼ cup unsalted butter, softened (Earth Balance Butter for vegan version)
½ cup cream cheese, softened (Tofutti cream cheese for vegan version)
¼ cup organic confectioners sugar (or ¼ tsp Now Better Stevia organic liquid, or to taste)
Splash of lemon juice
1 teaspoon vanilla extract
With an electric mixer beat the butter and cream cheese together until smooth and blended. Add stevia, lemon juice and vanilla. Whip until sugar is completely incorporated and frosting is very smooth and creamy. Or, just put it all in a food processor and
process until creamy.
Cut room temperature or cold carrot cake into squares and serve with a big dollop of frosting and a few julienned carrots. Or, spread frosting on cake before slicing. In the picture I stacked 2 pieces and spread frosting between the layers for a traditional
look.