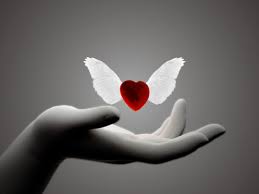 As this Valentine's Day approaches I am aware this year as never before of what Love Is Not.   I am so grateful for all of the experiences in my life that provided the contrast to see clearly the distinction between Love and love masquerading.
Pure, Unconditional Love is reflected in many things and in many ways.   Our pets are a fine example of what Love is. They give their love freely without judgment no matter what.
Unconditional love starts with unconditional love of self.  It is impossible to give what we do not have.  When we love ourselves unconditionally we give ourselves permission to be loved unconditionally by others.  When we love ourselves unconditionally we become the reflection of what Love is to the world.
Unconditional Love is the Healing Balm that Heals Everything – 
The Healing Begins with Love of Self.
If you are in a relationship that feels like "anything but love" or you keep finding yourself in the same abusive, suppressive relationships, ask yourself these questions:  Are you loving yourself unconditionally?   Are you judging yourself?  Have you forgiven yourself?
Unconditional Love Does Not Bind – It Gives  Love Wings.
You can never truly forgive others if you are withholding forgiveness from yourself.   Without forgiveness of self you will always judge others by how you judge yourself.  Example:  If you judge a part of yourself ugly, you will judge that part in others.
As you fall more and more in love with yourself, you become less and less tolerant of causing harm to yourself or allowing others to do harm to you; just as you would be intolerant of any harm to a loved one.
Reflect today on what may be love masquerading as hurt and fear in your life.   Love does not hurt or cause fear in ourselves or others.   This is a good measuring stick:
 Love is patient, love is kind.
It does not envy, it does not boast, it is not proud.
It does not dishonor others,
It is not self-seeking,
It is not easily angered, it keeps no record of wrongs.
Love does not delight in evil but rejoices with the truth.
It always protects, always trusts, always hopes, always perseveres.
1 Corinthians 13:4-8
My prayer today:  Divine Love, Creator, Source, Father, Mother, God – May this life reflect your Perfect Love.   Amen.