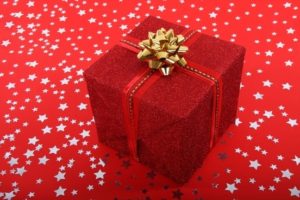 I realized recently the sheer power of GRATITUDE.  How it multiplies every gift.  Gratitude was the MIRACLE that fed 5000 with only 2 fish and 5 loaves of bread.   Jesus understood that abundance is free-flowing and never-ending.  It is Gratitude and Unconditional Love that opens the flood gates.
Can you imagine the abundance we can create in this world if every Holiday gift was given in the same LIGHT (or energy) as Jesus gave?
We've been taught that GIVING IS RECEIVING and this is true.  We always receive "the energy" of  what we extend.
Some "seem" to give very abundantly and end up financially and emotionally broke after the holidays.
How does this joyous, beautiful time turn into anything but?  Could it be the energy of intent in the giving did not match the Highest Vibrations of Love, Gratitude and Abundance?
The only Pure intent is Unconditional Love (love without condition or any other intention). Our Truest Desire is to Love and Be Loved this way – no matter what we may be showing the world.  Marianne Williamson put it this way,
"Everything that is NOT Love is a CRY for Love."
This Holiday season ask yourself:
"What is my intent in giving this gift?"
"Does it resonsate with my Truest Desire?"
"Does it resonate with Pure Intent?".
It may sound silly at first, but if you are very honest with yourself you might be surprised at some of the answers that flow in…..
Your first response to these answers may be to judge yourself when you realize your intent is not pure – Resist this urge.  You just received a Gift that you can now multiple. 
This energy of Pure intent  is "felt" at the heart center – Not with the mind.
Truth resides in the heart. 
A gift given from the heart resonates with the Truth at the heart of everyone and "multiplies".   This is what the world truly needs – For Truth to shine bright.  So give this season in the energy that multiples.
Here are some examples of intent you may ask yourself.  Am I giving this….
To increase business – cash flow?
To bring a smile to someone?
To bring to myself a smile?
Because that person may give me a gift?
To help me feel better about myself?
To make an impression?
To fill a physical need someone may have?
To fill a void in my life?
To extend sheer Joy?
To bring laughter?
Because it is expected of me?
Fill in the blank……
May your Holiday be blessed with Unconditional Love & Abundance!