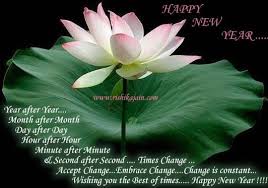 2016 holds so much change and promise and it starts inside each of us.
I attended a New Year's Eve Burning Bowl Service last night at a beautiful little church (Unity on Greenville in Dallas, TX).  If you are wondering what a "Burning Bowl" service is; it is a special time to release to the Universe beliefs that no longer serve you or the greater good.
You may be holding onto thoughts that have kept you from enjoying your God-given inheritance of Peace, Joy, Bliss and even Health.  This is a good time to let them go.  As you let them go, you make room for new ideas and higher solutions.
As the pastor stated, "Gratitude is key.   It is impossible to be in a state of gratitude and be angry, resentful or unhappy".  The more grateful we are, the happier we become.
It takes Faith to be in gratitude. The Faith that all is working in our favor, no matter what it looks like.  We learn from our experiences and then we get to choose better ones; ones more in harmony with the truth of who we really are – PURE LOVE made in the image of our Creator.
While listening to an incredible songwriter and singer last night, her words kept reverberating in my head.  I must share….
"You have the power to plant any flower and watch it grow". -Robin Hackett.
Maybe this year you want to plant the seed of health.  Mother Nature provides our "nature-made" bodies with the tools we need in "nature-made" food.  If our mind and body can find harmony we find health.
Our bodies are governed by the same laws of nature as all of creation. When creation is in harmony it thrives.  When it is out of harmony it dies.
We may have an expiration date, but pain and suffering like gratitude and happiness is a choice.
All of creation is connected.  Every action affects the whole.   It is the same with our bodies.  What we EAT and "THINK" is the action that determines the effect on our "whole" body, mind and soul.
As we learn how to find balance and harmony within our bodies and minds; not only do we begin to heal ourselves – we begin to heal OUR WORLD.
It starts with just one.  YOU saving yourself.  You are the change.  BE that! And the world will follow.
I hope you enjoy the delicious, nourishing recipe below.  And I pray for your health and happiness in 2016.
Peace, Joy, LOVE & Health!
The Intuitive Chef
---
Getting Ready to take this to a New Year's Celebration!   Adding brocolli for something green…
The Best Mac & Cheese Ever!  (Gluten Free & Dairy Free)                   Serves 6-8
4 cups cooked gluten free macaroni, shells or penne (Ancient Grains is great!)
2 cups So Delicious Coconut Milk Beverage (plain unsweetened or make your own)*
1/3 cup nutritional yeast
3 tablespoon tapioca flour or arrowroot
1 teaspoon Bragg's apple cider vinegar
½ teaspoon Dijon mustard
1 teaspoon sea salt
¼ teaspoon white pepper
1 teaspoon onion powder
½ teaspoon garlic powder
½ teaspoon smoked paprika
4 tablespoons Earth Balance Buttery Sticks (or real butter for vegan version)
Preheat oven to 350F.  Cook pasta according to package directions minus 2 minutes.  Drain and stop cooking process by placing in bath of cold water.  Set aside while you make the sauce.
Whisk together balance of ingredients in sauce pan.  Gradually bring to high simmer while stirring constantly.   It only takes a minute until it starts to thicken.  Remove from heat immediately.  CAREFUL! If you cook too long it will become thin again.  Remove from heat.
Place pasta in a 2 quart casserole or 8 x 8 glass baking dish and pour sauce evenly over pasta.   Dot top with butter and sprinkle with sweet paprika or smoked paprika for a smokey gouda kind of flavor.  Bake for about 20 minutes or until bubbly and starting to turn crisp a little on outside edges.  Allow to cool for a few minutes before serving.
Tips:  Substitute cauliflower florets instead of pasta for a grain-free version.   Serve sauce over broccoli, or on pizza; drizzle over nachos.  Options are endless!  For vegetarians, add a little shredded cheddar on top to completely fool everyone.   Delicious, Cheesy Decadence!
*Process together 1 can of lite coconut milk and 3 cups of water.