This is my all-time favorite savory pie!    It is designed for leftovers, so feel free to use whatever is in the fridge or frozen vegetables.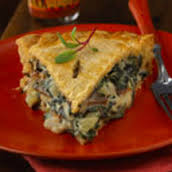 The mushroom, leek and shallot sauce will be good with just about anything or add more milk for the best cream of mushroom soup ever!
The oat crust has a delicious flavor and rustic quality that is perfect for this savory pie.  However, if you're in a hurry, buy ready-made crust or just pour the filling into a casserole and top with cheese and bake….yummy!
Oat Pie Crust
1 ¼ cup of oat flour
¼ cup tapioca flour
6 tablespoon butter (cold)
½ teaspoon sea salt
4 – 6 tablespoon cold water
Preheat oven to 400 degrees F.  In large bowl, sift all dry ingredients together.
Chop butter in to cubes and cut into flour with fork until mixture is crumbly. Or use processor, pulsing a few times until butter is roughly incorporated.  Mixture should resemble large crumbles.
Make well in center of flour mix and 4 tablespoons of water.  Mix well with until dough holds together when squeezed. Add more water if needed 1 tablespoon at a time.  If using a processor, dough is perfect when it starts to clean the sides of the bowl.  Knead dough a few times and cut  in half.  Wrap dough in plastic and refrigerate while making filling.
Filling:
2 tablespoon Pure Extra Virgin Olive Oil (make sure you are getting real deal)
1 tablespoon butter or Earth Balance Vegan butter
3 leeks, clean and chopped with a little of the green part
2 shallots, minced
1 cup button or baby bella mushrooms, roughly chopped
1 teaspoon fresh chopped rosemary (or ½ tsp dried)
1 teaspoon fresh chopped tarragon (or ½ tsp dried)
3 tablespoon oat or rice flour
¼ cup dry white wine (chardonnay is good)
1 ½ cup vegetable stock (I love Better Than Bouillon concentrate in a jar)
¾ cup So Delicious coconut milk beverage, unsweetened (or organic milk for vegetarian)
2 dashes fresh grated nutmeg (or ground)
1 teaspoon sea salt and cracked pepper or to taste
1 cup wild rice, prepared (quinoa works well too)
1 bunch collard greens, chopped (boil or sauté until just tender and still bright green)
1 can black eyed peas, drained and rinsed
2 cups cubed butternut squash, prepared
1 cup shredded gruyere or Swiss (optional for vegetarian version)
Preheat large skillet over medium high.  Add butter and oil and swirl to coat skillet.  Add  mushrooms, shallots and leeks to hot skillet with a dash of sea salt.  Sauté for about 3 minutes then add herbs.  Stir frequently until leeks are translucent and mushrooms have released their moisture (5-7 minutes total).
Add flour to mixture stirring for a minute until well blended.  Deglaze pan with wine and simmer for a minute.  Add broth and bring to high simmer.  Gradually add milk stirring constantly until sauce is thickening.  Stir in  nutmeg.  Add salt and pepper to taste and set aside.
In a very large bowl gently mix together, rice, collards, peas, squash and mushroom, leek mixture.
Remove dough from fridge roll out each half of dough on parchment or wax paper for a 9" pie crust or 10″ seasoned iron skillet  Invert one crust into pie plate or skillet and gently peel paper away.  Press dough evenly into place and finish edges as desired.  Reserve other half for top of pie.
Spread veggie mixture evenly on top of finished crust.  Spread cheese if desired on top of veggie mixture. Gently lay rolled out dough on top and pinch the top and bottom edges of dough together to create a tight seal.  Brush top with milk and pierce a few times with a sharp knife to vent the steam.  (Or you can do a tart with top open – freeze the other half of crust)
Bake at 400 degrees F for 15 minutes then reduce to 350 degrees for 30 minutes or until pie is golden and bubbly.   Let pie rest for at least 20 minutes before serving.