Pie Filling Pr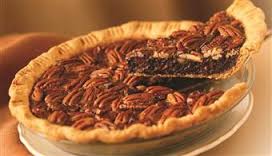 eparation
¼ cup pure maple syrup
¼ cup cocoa, unsweetened
¼ teaspoon instant coffee
1½ tablespoon arrowroot
¼ cup Jack Daniels Tennessee Whisky (or other quality bourbon)
1 teaspoon vanilla extract
Pinch of salt
½ cup pecan pieces
1 cup pecan halves
The glaze
¼ teaspoon smoked paprika
¼ teaspoon cinnamon
¼ cup agave syrup
Preheat oven to 350 degrees.  In large bowl, whisk together all ingredients (except pecans) until very smooth. Use a processor if you prefer.  Fold in pecan pieces.
Pour mixture into pie crust and spread evenly.  Arrange pecans halves on top.  Bake for 30 minutes.
Whisk together glaze ingredients.  Remove pie from oven and lightly brush pecan tops.   Return to oven and bake another 15 minutes or until pie is set. Allow to cool completely before slicing.
Inspired by my twin brother, this recipe rivals the best pecan pie I've ever had.  And, NO processed sugar, or artificial ingredients AND all plants!  Top it off with my delicious homemade coconut whipped cream.
Oat Pecan Crust
1¼ cup gluten free oat flour (sifted)
¼ cup pecan pieces
¼ teaspoon sea salt
¼ cup coconut palm sugar
¼ cup butter, cold (or Earth Balance for vegan version)
¼ cold water (more or less)
In food processor add flour, salt, sugar and pecan pieces.  Pulse a few times to mix
Add butter and pulse until butter is roughly cut in (8-10 seconds).  Note:  This can be done by with a fork or your fingers). Turn processor to on and add water slowly through feeder tube until dough begins to clump and cleans the edge of bowl.  If too wet and sticking to sides add a little more flour (1 teaspoon at a time).  If too dry add more water (1 teaspoon at a time).  Dough should be very soft, but not sticky.  Remove and pat into ball.
Roll out onto sifted oat floured surface.  For ease, roll out on parchment paper, place a 9" pie plate upside down on top of dough and flip plate over.  Peel off parchment and gently press dough into plate.  Finish edges as you wish.
Bake at 425 degrees for 10 minutes.  Move to cool spot while you make the filling.
 Medjool Date Syrup  (makes 2 cups)
12 Medjool dates (chopped)
1¾ cups water
1 teaspoon Madagascar vanilla extract
1/8 teaspoon almond extract
Combine all ingredients in sauce pan and bring to low simmer for 30 minutes stirring frequently.
Pour syrup into processor and process until very smooth.  Allow to cool before using.  This can be stored in glass container in the fridge for up to 2 weeks, so make plenty at one time for the holidays.