Watermelon and Cucumbers – Nature's Gatorade!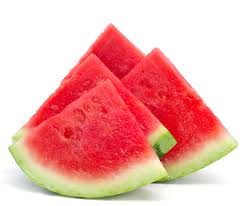 Let's start by picking a luscious, sweet watermelon.  
#1 – Pick a heavy one.  Water weighs a lot!
#2 – Look for a creamy yellow belly where it has been laying on the sweet earth getting ripe.
#3 – Make sure it's evenly formed with no soft spots.
I've found the "thump" test is no quarantee.  Some say the watermelon should sound hollow.  This test has left me dissappointed.  The above 3 test have never let me down!
The easy way to cube and peel the melon.  Start with a very sharp butcher knife. Cut both ends off and cut melon in half if large. Stand each half up and slice down from top to bottom to remove rind.  Slice in the rings and cube.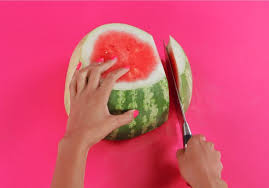 You will need a very large bowl and a processor to start (unless you want it very chunky).
Ingredients:
8 cups of small cubed seedless watermelon
2 large tomatoes, diced
1 yellow or orange bell pepper, diced
1 large cucumber, peeled and diced
2 jalapenos, seeds removed and diced
¼ cup diced red onion
2 garlic cloves, minced
1 cup diced mango or peach (fresh or frozen)
3 tablespoon white balsamic vinegar
3 tablespoon extra virgin olive oil
Juice from 1 large lime
1 ½ teaspoon smoked paprika
1/2 teaspoon ground chipotle pepper (or to taste)
1 ½ teaspoon sea salt
2 tablespoon fresh chopped basil or mint (I like basil best)
½ cup chopped cilantro
Process 3 quarters of vegetables and fruits with vinegar, lime juice, oil and spices. (process in batches if needed).
Pour into large bowl and blend in balance of fruit and veggies and chopped herbs. Cover tightly and chill well before serving.   This is way better the next day!
This is a summer staple and is always a big hit everywhere I take it.
Enjoy!